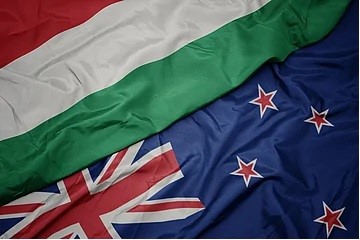 New Zealand has removed its Covid-19 related travel restrictions starting 13 September.
As of 13 September, 2022, Hungarian citizens will not need to provide proof of vaccination to enter New Zealand and may stay without a visa and quarantine obligations for a period of 90 days. Please, note that despite the visa waiver, you must apply to NZeTA (New Zealand Electronic Travel Authority) at least 72 hours before starting your trip. More information about applying for NZeTA is available at the following link: https://www.immigration.govt.nz/new-zealand-visas/apply-for-a-visa/about-visa/nzeta
Additionally, all in-bound travellers need to complete a New Zealand Traveller Declaration:  https://www.travellerdeclaration.govt.nz/
In-bound travellers will not be required to self-test for Covid-19 post arrival in New Zealand on Day 0/1 and Day 5/6, but are encouraged to do so. Those who test positive for Covid-19 will be required to self-isolate for a period of 7 days.  Mask wearing in the community is no longer required, except in healthcare settings or aged care facilities.