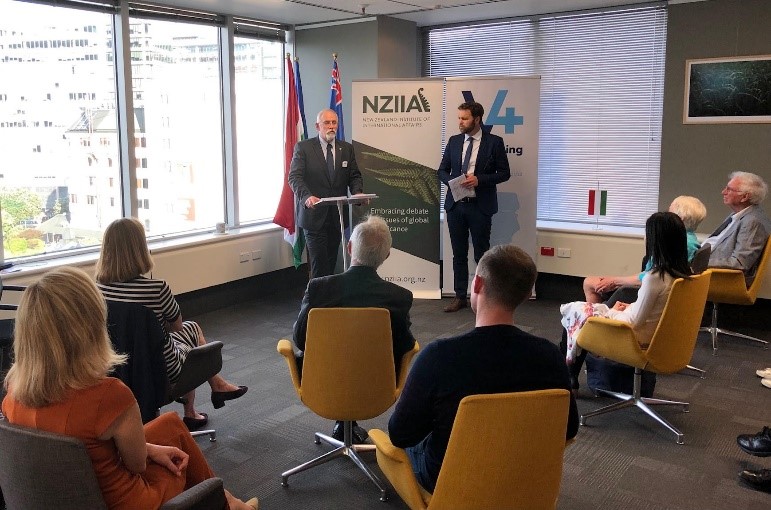 The EU remains a reliable partner for the region, adopting its Indo-Pacific Strategy just recently.
The event co-organized by the Embassy of Hungary, and the Wellington Chapter of the New Zealand Institute of International Affairs (NZIIA) offered the Hungarian perspective on the future of Europe and its relations with the Indo-Pacific region. An audience of twenty-five people was hosted at the Embassy, while other participants followed the event online.
Amb. Zsolt Hetesy illustrated the internal process behind the unified EU approach towards external partners, showcasing relevant examples (free trade negotiations, fight against climate change, energy taxonomy, EU Indo-Pacific Strategy). He explained why the New Zealand – EU Free Trade Agreement, which Hungary supports, will take relations to a new dimension. He also emphasized that the predictability and stability of the European Union's external relations is actually the result of healthy diversity within the EU, and the shared competences between the EU and its Member States. In that regard, the Ambassador presented the role of the regional organizations, like the Visegrad 4 Group (Czechia, Hungary, Slovakia, Poland).
The Ambassador stressed that Hungary is also interested in a strong European Union grounded on its traditional values and based on strong Nation States. For this, the EU must find appropriate answers to its internal, core questions. Given the internal diversity of the alliance, it is best to find political compromises and functioning solutions, taking into account differing positions. Failure to do so would strengthen divisions, and further aggravate voter distrust in the organization. Responding to questions, the Ambassador discussed the driving forces behind, and results of, migration and family policy of Hungary.